Friday, May 27th, 2011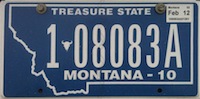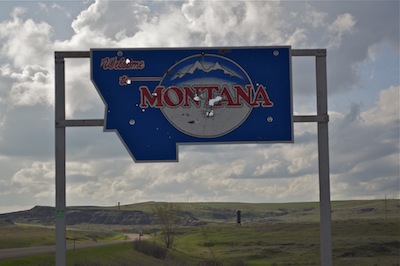 Montana is a large but sparsely populated state; it's renowned far more for its nature than for its towns and cities. I had already visited the state briefly in 1994, but back then I saw just a small portion of its southwestern corner, near Yellowstone National park (which is mostly in neighboring Wyoming). So I was looking forward to driving across the whole length of this beautiful state.
Unfortunately most of my visit to Montana was thwarted by heavy rain. I got to see little of the eastern 2/3 of the state (except for the rain-soaked I-94 and I-90 freeways). A section of I-90 was even closed due to flooding, making it impossible to reach the Little Bighorn Battlefield (where General Custer and his troops were massacred in 1876). The most noteworthy thing I saw in the eastern part of the state was the heavily flood-swollen Yellowstone River. Because the Yellowstone River flows into the Missouri, which in turn flows into the Mississippi, it was easy to see why so much of the Mississippi River is currently flooded (and will likely remain flooded for weeks to come).

After driving across the eastern 2/3 of the state in heavy rain, I crossed the Rocky Mountains (and the Continental Divide), to stay the night in the city of Butte. Fortunately, the rain had mostly cleared the next day.

Butte (pronounced "beaut") was one of the world's most productive mining areas in the 20th century. Unfortunately, the city grew up in the middle of the mining area, leaving mine shafts and pits interspersed with city blocks. In my opinion, this makes Butte one of the ugliest cities in the country.
Butte's most prominent feature is the "Berkeley Pit" – a huge open pit, located next to the city center. A former open-air copper mine, this pit has been filling with water since the mine was closed, and has become a major toxic waste site.

I then continued west from Butte, through Missoula, towards Idaho – the next state on my itinerary.