Sunday, May 8th, 2011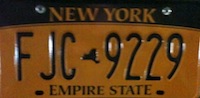 Although I moved to the U.S. in 1980, it wasn't until 2007 that I first got to visit its largest city. When I finally visited New York City, I was pleasantly surprised by how much I liked it.
As in 2007, I got to visit New York City in the Spring, which many people consider to be the best time to visit the city.
On this trip, I also got to visit the Statue of Liberty for the first time. I got to climb up to the top of the pedestal at the base of the statue, but didn't get to climb up into the statue itself. (It is possible to climb up to the crown (on top of the statue's head), but tickets for this are very scarce, and need to be booked months in advance.) Close up, the statue looked surprisingly large. (Strictly speaking, the Statue of Liberty is in New Jersey; but everyone thinks of it as being a New York landmark.)