Wednesday, April 13th, 2011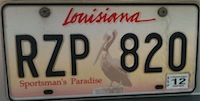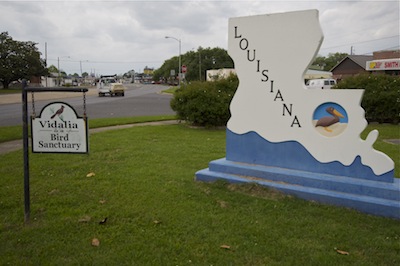 From Natchez, Mississippi, I crossed back westwards over the Mississippi River into Louisiana. Shortly afterwards, I briefly experienced the first bad weather on this trip: A short thunderstorm with strong wind and heavy rain. It was over in less than half an hour, during which time the temperature dropped from 86 F to 70 F (30 C to 21 C). (This was the same weather system that dropped snow on northern Arizona a couple of days earlier.)
I spent my first day in the 'Acadiana' (aka. 'Cajun') region of Louisiana. This is the area settled extensively in the 1700s by French-speaking refugees from Nova Scotia, following the British capture of Nova Scotia from the French. Consequently, the names of many towns and streets in this area are French, as are many people's surnames.
On my second day – while en route to New Orleans – I visited the southern coastal town of Grand Isle. This town is frequently hit (or brushed) by hurricanes. For protection against hurricane storm surges, all houses in the town are on stilts.
This area was also hit – one year earlier – by the large BP oil spill. Walking along the beach, I didn't see any remaining signs of oil on the beach (but because the sea water looked murky, I didn't do any more than wade in it).
The highlight of any visit to Louisiana is, of course, the city of New Orleans. This was my second visit to New Orleans, but my first since the disastrous Hurricane Katrina in 2005.
Before I left New Orleans, I drove through the "Lower Ninth Ward" – an area of the city badly flooded after Hurricane Katrina. Driving through the area, almost 6 years afterwards, I could see many condemned homes, many cleared sections (where homes had been bulldozed and removed), but also several new homes, built after the hurricane.
Unlike much of the rest of the city, the "French Quarter" – New Orleans' tourist mecca – was not significantly damaged by the hurricane. One could spend days here sampling the many Cajun and Creole restaurants on offer. I will certainly visit New Orleans again, but on this trip I spent just one day here, before continuing eastward.