Wednesday, April 6th, 2011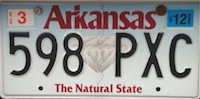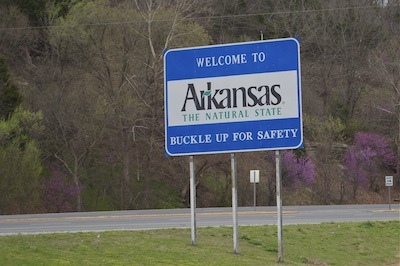 This was my first visit to Arkansas.
Entering the state at its north-western corner (just south of Joplin, Missouri), I first drove to the small town of Bentonville. This otherwise unimposing town is remarkable for being the birthplace, and headquarters, of one of the world's largest and most influential companies: The retailing giant Walmart. The company's headquarters are easy to miss. From the road, it looks not like a traditional office building, but instead just like one of its 'supercenter' retail stores. Looking closer, though, you can see that it's actually a pair of buildings – one signed "Transportation"; the other signed "Logistics".
In the center of Bentonville (on the main square), you can also see Sam Walton's first "five and dime" store – the predecessor to today's Walmart. The company now maintains this building as a visitor's center. The irony, of course, is that across the country, small neighborhood stores like this have been put out of business by larger, more efficient chain stores such as Walmart. Although Walmart gets a lot of criticism (much of it deserved), it's hard not to admire its success.
I then drove south, through the Ozark Mountains, to the city of Hot Springs. With a maximum elevation of only about 2500 feet, the Ozarks would probably not be considered "mountains" if they were located in a western state. In this part of the U.S., though, they're a significant geographic feature. At this time of the year (early Spring), the trees covering the Ozarks looked bare and unattractive. A few weeks later, though, there'll probably be lots of green.
Hot Springs National Park is unusual for U.S. National Parks in that it encompasses not a natural landscape, but instead an urban area – most notably "Bathhouse Row", one side of a street in the city of Hot Springs, Arkansas. The park commemorates a bygone era before ubiquitous indoor hot water, and jacuzzis. People would travel great distances to soak in the hot springs, sometimes seeking medicinal benefits. Several elaborate buildings were built on "Bathhouse Row" to accommodate these visitors.
These days, with hot springs having lost much of their appeal, only one of the bathhouses remains open as a commercial business. But the entire row remains preserved as a National Park.
The city of Hot Springs has another, more recent, claim to fame: It was where Bill Clinton grew up and went to high school. On my second day there, I went to "
McClard's
", a famous (and delicious!) local southern-style barbeque restaurant. (Bill Clinton might have spent a little too much time there, because a few years ago he had to have heart bypass surgery.)
On my second day in the Hot Springs area, I went on my first mountain bike ride during this trip. I rode a section of the "Womble Trail in the nearby Ouachita (pronounced "WAH-sha-ta") National Forest.
To end my trip through Arkansas, I visited Little Rock – the state's largest city and capital. The city sits on the Arkansas River (which flows into the Mississippi).
Little Rock Central High School is famous for pivotal events in 1957, when President Eisenhower used army troops to help enforce a Supreme Court decision ordering that schools be racially integrated.
I also visited the Clinton Presidential Library and Museum. Unfortunately the "blue dress" was nowhere to be seen 🙂
While I was looking at the exhibits, a security guard asked me if I was John Walsh, the host of the TV show "America's Most Wanted". Geez, I don't look at all like him; for starters, he's 14 years older than I am!