Tuesday, April 5th, 2011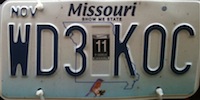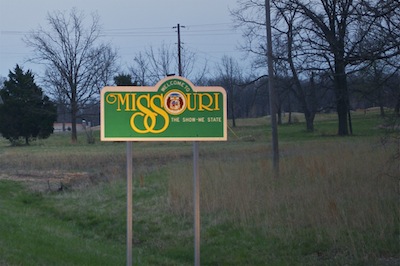 After passing through the south-eastern corner of Kansas (coming from Oklahoma), I spent the evening in Joplin, in the south-western corner of Missouri. (The following day, I headed south, to Arkansas.)
Joplin, like many towns and cities that I've visited on this trip so far, lies on the old U.S. "Route 66", which ran between southern California and Chicago. (In its heyday, it was mostly driven in the reverse direction, as people migrated west, towards California.) I will now be leaving "Route 66", as I head towards southern and eastern states.
One piece of trivia about this part of Missouri: It is close to the mean center of the U.S. population.
This brief visit to Missouri was, strictly-speaking, my second visit to the state (because a few years ago I changed planes in Saint Louis airport), but for all practical purposes, this was my first visit.
As predicted, the weather front had passed through overnight, but with only a brief thunderstorm. The following morning, it was cloudy and blustery, and much colder. The previous day, the temperature had been has high as 90 degrees F (32 C) during my drive across Oklahoma. Today, however, it started out at 46 degrees F (8 C), and got no higher than the 50s F (low-mid teens C) during the day.