Friday, April 15th, 2011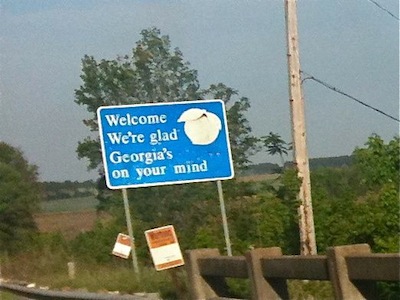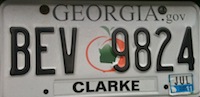 From the Florida panhandle, I entered Georgia by crossing the Chattahoochee River on a country road. (Upon entering Georgia, I also entered the Eastern Time Zone, losing another hour – sigh…) I then drove through several farming towns, including Colquitt, which is noted for its murals, including one painted on a cluster of three grain silos. I stopped the first night in Albany, a city on the Flint River.
I ended my visit to Georgia in Savannah, a city in the northeast corner of the state. Like Natchez, Mississippi, which I'd visited a few days earlier (and unlike Atlanta – Georgia's largest city and capital – which I bypassed on this trip), Savannah suffered little damage during the Civil War, and retains many historic buildings.
I also continue to be lucky with the weather. A strong weather system – which had brought heavy rain and killer tornadoes to Oklahoma and Mississippi (where I'd been a few days earlier) and North Carolina (where I'll be in a couple of days) – passed through the Savannah area with nothing more than gale-force winds. It wasn't the best weather for a trip to the beach, but I had one more thing I had to do before I left Georgia. I drove to nearby Tybee Island beach, and went for a swim in the Atlantic Ocean. I'd done it – I had driven across the country. Now it was time to continue my trip by visiting the remaining eastern states.