Tuesday, April 19th, 2011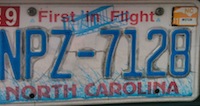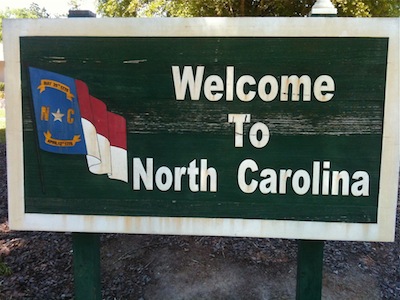 Driving into North Carolina from South Carolina, the clear skies and calm conditions belied the fact that just one day before, the state had been hit with dozens of tornadoes, killing more than 20 people. I did, however, see several uprooted trees, some damaged road signs, and, in one case, debris strewn across a field.
I stayed the night in the town of Wake Forest, near the state capital of Raleigh, at the home of old mountain biking friend Berry Stevens, who had moved here with his wife a couple of years earlier to be closer to their grandson. Unfortunately, I didn't get to do any mountain biking during this visit, because the previous days' rain had left the local trail beds too wet to ride on.
I exited North Carolina to the northwest, entering Virginia via the Appalachian Mountains. Before leaving the state, I passed through the town of Mount Airy, which was the boyhood home of Andy Griffith, and the inspiration for the fictional town of Mayberry in "The Andy Griffith Show". The downtown area is filled with signs noting the "Mayberry" connection, and some rather cheesy Mayberry-themed stores. I didn't bother taking any photos there.
The Mount Airy area's other claim to fame is that it was the home – in the 1800s – of Chang and Eng, the original 'Siamese Twins'.