Saturday, May 28th, 2011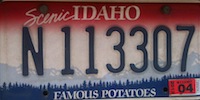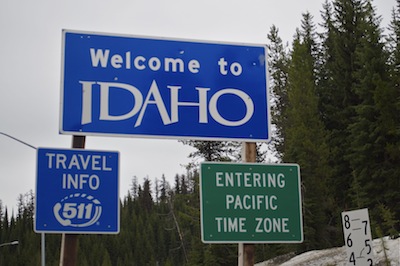 People usually cross Idaho using freeways at the southern end of the state (where most of its population – and its 'famous potato' farms – reside), or perhaps using the I-90 freeway at the far north of the state. I needed to cross the northern portion of the state (the 'panhandle') because I wanted to get to Washington State, but I didn't want to drive farther north than necessary, so I instead drove the remote U.S. Route 12 westward from Missoula, Montana.
Route 12 enters Idaho at Lolo Pass. (At 5225 feet elevation, lots of snow was present, even in late May.) As I crossed into Idaho, I was pleased to learn that I had also returned to the Pacific Time Zone. (While southern Idaho is in the Mountain Time Zone, northern Idaho – with its close ties to Washington State – is in the Pacific Time Zone.)
In Idaho, I drove alongside the Lochsa and Clearwater rivers, which were flowing swiftly and near full from recent rain. This region of Idaho is heavily forested; I passed several lumber mills as I drove westward.