Tuesday, March 29th, 2011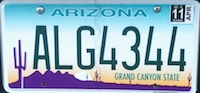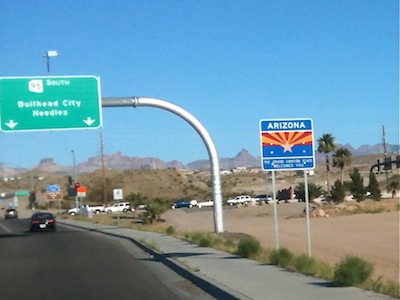 One tends to think of Arizona as being a hot dry state, and for much of the state, that's certainly true. The north-western portion of the state, however, is at quite high elevation, and can receive a fair bit of precipitation (often snow), especially during the winter months.
The major geological feature (and tourist attraction) in this part of the state is the spectacular Grand Canyon. Because I had visited the Grand Canyon just one year earlier, I chose not to revisit it on this trip. Instead, I bypassed it, taking the I-40 freeway directly between Kingman and Flagstaff. The highest elevation on this section of the highway is more than 7300 feet. Flagstaff, where I spent the night, is almost as high, and can get quite cold at this time of year. It was close to freezing when I arrived in the evening.

Heading east from Flagstaff, the land becomes flatter and drier. Normally, there wouldn't be any significant geological feature in this area. About 50,000 years ago, however, a meteorite – estimated at just 50 meters in diameter – slammed into the Earth here, creating a huge crater, 4000 feet (1200 meters) in diameter. This is probably the most well-known meteor crater on Earth.
Being an astronomy fan, this is a place that I had long wanted to visit, even before coming to the U.S. I have now visited it four times. It's a fascinating place to visit, even though you are not permitted to hike to the crater floor.

The Interstate 40 freeway follows much of the historic U.S. Route 66, immortalized in the song "(Get Your Kicks On) Route 66". After the construction of the freeway, many of the towns on Route 66 fell into decline. One such town – just east of the Meteor Crater – is Winslow, which is most well-known by the line "Standin' on the Corner in Winslow, Arizona" in another song, "Take it Easy", by the Eagles. When your main claim to fame is a line from a song, you find a way to turn it into a tourist attraction.

Further east is the remarkable Petrified Forest National park – an area of desert strewn with petrified logs. I was surprised by how much of the petrified wood retained the appearance of their original trees. From a distance, they really do look just like logs; not stone.
A little to the northeast is Canyon de Chelly National Monument. ("Chelly" is pronounced "shay".) Being a National Monument, it is considered to be not quite as significant or noteworthy as a National Park, but, in my opinion, is definitely worthy of National Park status. The park contains not only spectacular scenery, but also the remains of several ancient cliff dwellings (similar to nearby Mesa Verde National Park in Colorado).