Saturday, May 21st, 2011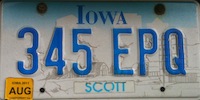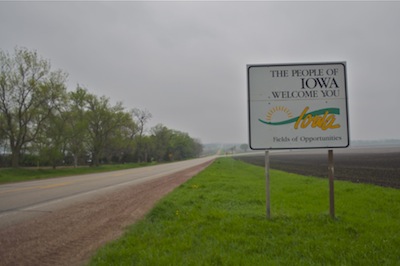 Driving westward from Chicago, the sprawling suburbs slowly faded into farmland. I then crossed the Mississippi River once again, to leave Illinois and enter Iowa.
Downstream, the Mississippi River was experiencing record flooding. Several places (in Arkansas, Tennessee, Kentucky, Mississippi, and Louisiana) where I had been just a month ago were now flooded. Here in Iowa (near the "Quad Cities" of Davenport and Bettendorf, Iowa, and Moline and Rock Island, Illinois), I could tell that the river was very high, but it was not overflowing its banks.
Crossing the Mississippi marked the symbolic 3/4 point of my trip; I was now back in the western US. (Later, when I re-cross the Continental Divide, I'll be back in the "Pacific West".)
This was my first visit to Iowa. Beforehand, I had imagined it to be a rather boring state – and I was right. It wasn't quite as boring as I'd expected, though, because (for most of the state) the ubiquitous farmland is set among gently rolling hills – not flat-as-a-board land as it was in the Texas panhandle or western Oklahoma. The towns and (few) cities are tidy, but generally unremarkable. The state is more than 300 miles wide; I was glad when I finally finished crossing it.
Before European settlement, most of Iowa was prairie – but today, almost all of it has been turned into farmland (mainly wheat or corn). Iowa now has the lowest percentage of remaining uncultivated land of any US state. However, a small area in central Iowa – the Neal Smith National Wildlife Refuge – has been restored to look the way that it did before European settlement – including several grazing buffalo.
Earlier in the trip, I found a small town (Winslow, Arizona) that was trying to take advantage of a brief mention in a song. Here in Iowa, we have another small town (Riverside) with an even more dubious claim to fame: The 'future birthplace' of Captain James Kirk from the "Star Trek" series!