Monday, April 11th, 2011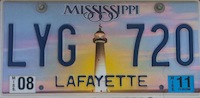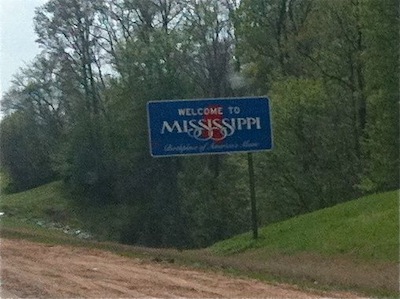 The Tennessee-Mississippi state line passes through the southern suburbs of Memphis (not far from Graceland), so I crossed into Mississippi soon after leaving Memphis.
The state of Mississippi is frequently the butt of jokes in the rest of the country. It consistently ranks last, or near-last among the states in life expectancy, infant mortality, obesity, education level, and poverty. And yes, there are many poor parts of Mississippi. But I also saw several prosperous areas, including Tunica, at the north-west corner of the state (thanks to tax revenue from the several casinos in the area), and parts of Natchez (thanks to tourism). Also, the the town of Oxford (home of the University of MIssissippi) – where I spent one night – is one of the nicest, tidiest college towns that I've seen.
I got to see a large part of the state by driving along much of the Natchez Trace Parkway. This is a 444-mile long road, run by the National Park Service, that runs between Nashville, Tennessee, and Natchez, Mississippi. The road is dedicated to scenic touring only. There are no commercial businesses on the road (and commercial trucks and vans are not allowed to drive on it). I got to drive a 265-mile section of the parkway – from Tupelo, Mississippi, to Natchez.
The town of Natchez – on the Mississippi River at the southwestern corner of the state – is famous for its many well-preserved antebellum (pre-Civil War) mansions. (Unlike many other towns, Natchez fell quickly to Union forces, with little damage.)
I've had good luck with the weather so far on this trip. While I was in Mississippi, a snow storm was hitting Flagstaff, Arizona (where I'd been just a week and a half earlier). But in Mississippi, it was warmer than usual for this time of year, with temperatures getting as high as 90 F (32 C). These are temperatures more typical for summer than spring, but without the stifling summertime humidity common in this part of the country. (Nonetheless, even now, it's noticeably more humid here than in the western US.)