Thursday, May 5th, 2011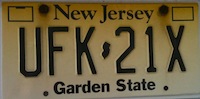 New Jersey has a bad reputation in the rest of the country, largely because of the urbanized, crime-ridden areas at the western end of the state (near Philadelphia, PA), and at the northern end of the state (near New York City). Because of this, I wanted to see the more sparsely-populated southern end of New Jersey – which is said to be the nicest and most scenic part of the state.
I began this visit to New Jersey at its southern tip – the town of Cape May. I reached Cape May by taking a car ferry (across Delaware Bay) from Lewes, Delaware. Cape May is a quiet and pretty town, with many Victorian-style homes.
The next day I drove to Atlantic City. A long-time beach-side resort city, Atlantic City became especially prominent in 1976, with the arrival of legalized casino gambling. Prior to this time, Nevada was the only state in the U.S. with legalized casino gambling. (Now, casino gambling is spread throughout the country, but Atlantic City remains the second largest casino city in the country (behind Las Vegas).)