Monday, May 23rd, 2011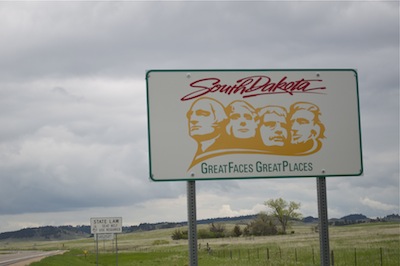 My first-ever visit to the Dakotas didn't start well – I ran into torrential rain in eastern South Dakota, while driving westward from Minnesota. Fortunately, though, South Dakota's major attractions are in the western half of the state, and the weather was clear the next day as I drove through the spectacular Badlands National Park. (At this time I also crossed into the Mountain Time Zone, recovering the second of the three hours that I lost on my outbound trip.)
Just before entering Badlands National Park, I visited the "Prairie Homestead" – a pioneer's sod home built in 1909. This was interesting, but even more interesting (to me, anyway) was the dozens of prairie dogs living on the grounds. Prairie dogs are actually a type of ground squirrel; they get their name from their high-pitched 'barking' warning call. I made a short video of one of them; you can also see a couple of photos below.
For Native Americans and early white settlers – looking for good grazing land – the 'badlands' in what is now Badlands National Park are well named. This rugged, heavily-eroded region, however, is full of wildlife (and fossils), and in recent times has been far from 'bad' for South Dakota's tourist economy.
South Dakota's most famous tourist attraction, however, is Mount Rushmore National Monument, in the Black Hills. The faces of four presidents are carved into a granite mountainside. I have to admit that I was a bit underwhelmed by Mount Rushmore, perhaps because I had already seen so many photos of it.

Close-ups of the four presidents at Mount Rushmore:
I was more impressed, though, by "Crazy Horse Memorial" – a gigantic sculpture of Indian chief "Crazy Horse" that's being carved from another granite cliff nearby. When finished, this will be the world's largest sculpture. Carving (mainly using explosives) has been underway for more than 60 years, and so far only a small part (the face) has been completed. It will probably not be completed in my lifetime.
I also visited two more attractions in the Black Hills: Custer State Park, which has a large herd of free-roaming buffalo, and Wind Cave National Park, with its distinctive calcite 'boxwork'.
As I travel around the U.S., a trail of destruction seems to follow me soon afterwards. While in South Dakota, I learned that the city of Joplin, Missouri – where I stopped for the night in early April – was hit by a devastating tornado. As I noted in my "Missouri" entry, Joplin lies close to the "mean center of U.S. population". In South Dakota, I got to visit a similar theoretical point: The geographic center of the U.S. This point was established in August 21st, 1959 – just a few days after I was born – when Hawaii joined the U.S.