7: Oklahoma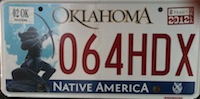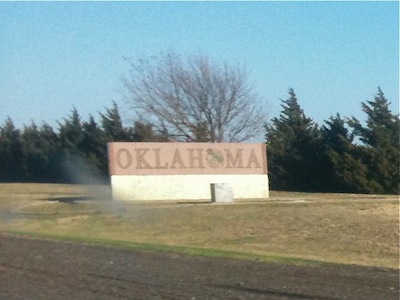 "Severe Weather". This was the warning that I saw on "The Weather Channel" when I turned on the TV on Sunday morning. I had stopped overnight in Weatherford, in western Oklahoma, and planned to continue north-eastward across the state (to Joplin, Missouri, where I planned to spend Sunday night).
The "Severe Weather" warning called for high winds, with a band of thunderstorms (including possible tornadoes) and hail moving eastward. It was forecast to pass through Missouri Sunday night. The Weather Channel's reports are often a bit alarmist. They get their audience (and thus their advertising revenue) from reporting bad weather. (Following a hurricane, their reporters often look noticeably disappointed if damage ended up being less than predicted.) Nonetheless, this warning seemed serious – and it was already very windy outside – so I decided to continue driving as soon as possible, so I wouldn't encounter bad weather while on the road.
Weatherford is the home town of (Gemini and Apollo) astronaut Tom Stafford, and the town has a space museum named in his honor. I had hoped to visit this museum in the morning, before I left, but unfortunately it didn't open until 1pm on Sundays. (This is presumably to allow time for people to go to church beforehand; this is a very religious part of the country.)
This was my first visit to Oklahoma, which became my first 'new' state on this trip. Driving across the eastern Texas panhandle (the previous day), and then into Oklahoma, I found that the terrain became more interesting – gently undulating, with greener vegetation and more trees.
En route, I stopped at Oklahoma City – the state's largest city and capital – which lies in the very center of the state. I visited the Oklahoma City National Memorial, on the former site of the federal office building that was destroyed by a terrorist bomb on April 19, 1995, killing 168 people.