6: Texas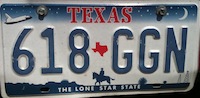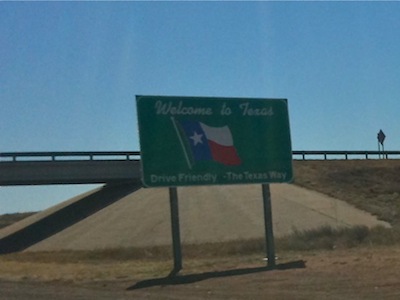 "Is this the way to Amarillo?". That was the question posed in a 1970s pop song by British singer Tony Christie (who, in reality, had probably never visited the place). For most people living outside the U.S., this was the first they had heard about the city of Amarillo, in northern Texas.
Crossing into Texas from New Mexico, I entered "Central Daylight Time", and had to set my clock ahead one more hour. Being a 'night owl', I'm finding it hard to keep waking up at a reasonably early time as I move eastward across the country. (Fortunately, though, I'll get these hours back when I return westward later in the trip.)
Texas is, geographically, by far the largest state that I will visit on this trip. (Only Alaska is larger.) However, by driving across the 'Panhandle' – the rectangular region at the northern end of the state – I was able to cross Texas in just a few hours.
Amarillo is the only city of any significant size in this part of Texas. The area is dominated by cattle farming. (Vegetarians would be miserable here.) In fact, it was local cattle farmers who (unsuccessfully) sued Oprah Winfrey in 1998 for comments associating American beef with 'mad cow disease'. (Oprah Winfrey is not exactly someone who I look to for advice on healthy eating.)
There's a steakhouse here called the "Big Texan" that will give customers a free steak dinner, if they can eat the whole dinner within 1 hour. The catch? The steak is 72 ounces – i.e., 4 1/2 pounds! Things come bigger in Texas.
This area of Texas is extremely flat. Often, while driving along the freeway here, I couldn't see a single hill in any direction. It's also very windy and dusty (at least it was, when I drove through). I saw several wind turbines in the area.
Just to the west of Amarillo is an unusual sculpture called "Cadillac Ranch", where a row of ten old Cadillacs have been 'planted', front-first, in the middle of a wheat field. The bodies of the Cadillacs are rusting away, and have all been covered with graffiti, but nonetheless, this is a noteworthy – and very American – attraction.